This morning Doris died at the age of ninety. Doris was the mother of an old friend of mine. Healthy most of her life, cared for by a loving, devoted daughter, she breathed her last, peacefully closing her eyes. When I got the news, I looked up at heaven and shouted a big thank you. I know that God led her by the hand to his Kingdom where she joined her beloved husband.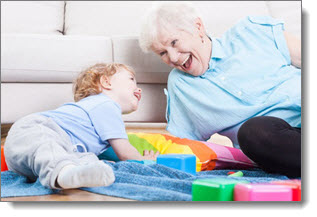 Doris was a Gramma—also a great Gramma! She enjoyed two generations after her own children married and had their families. Always a close family, many celebrations were enjoyed as she played the doting Gramma and then the doting Great Gramma. I would bet that if asked up there in heaven what were some of her favorite times, she would say they were those times spent with her family.
Today marks the death of my own mother 36 years ago. She died when she was only 56 years old but was a Gramma too. Adoring her three grandchildren for several years, she too enjoyed family times especially during the holidays. What would be her last gift to my son, was a little red shovel that instantly was a hit! I remember the sorrow in my heart a few months later, when my Dad called to say she had suddenly died. A void opened in my soul, making it extremely hard to breathe.
Years later, Doris shares this special date in my family. She is in good company! I think that to be a Soft Gramma is an honor. I will describe what a soft Gramma is in my own words; that is the kind of Grandmother I want to be!
She is touchable and also touches her grandchildren. She plays games. She plays school. She bakes cookies. She tells bedtime stories. She sings. She prays. She dances. She writes little notes. She visits often. She will watch a DVD over and over. She will giggle at her own jokes and those of her grandchild. But above all… she listens!
My most poignant memory of my Gramma Gilman, was the last time I saw her. She was very ill with little appetite. My aunt took wonderful care of her — cooking for her and trying to entice her to eat. My Gramma had lost a lot of weight. She had always been plump and I never thought of her any other way. So to see her so thin was a shock. As she sipped her protein shake, I sat and held her hand. I remember how soft her fingers were as I entwined my own with hers. When she started to tire, I sat on the floor and put my head on her lap. I felt comforted by her presence and cherish those few moments. Crying when we left a few hours later, I know she knew it was our last visit. A tiny smile formed on her face as her beautiful blue eyes glistened with tears. I waved as our car backed out of the driveway.
So, I was blessed to have a soft Gramma and I will feel eternally honored if my granddaughter remembers me that way. I am glad I carry a few extra pounds because I think she does not see them. Instead, they make me soft to the touch!
So, here's to Soft Grammas everywhere!