I have many childhood memories that bring me joy! Perhaps one of the fondest is of my mother-in-law's Monday ritual of doing the family wash and hanging it out to dry. Before electric/gas dryers, that was the method of drying the wet clothes, sheets and towels. Usually an early morning ritual, they were dry by late afternoon.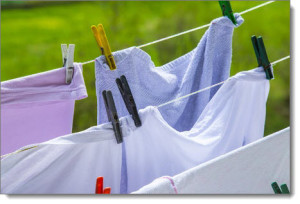 Instead of electricity, the sun was the dryer. Clothespins, made of wood or plastic, held the pieces securely as they blew in the wind. Usually hanging up clothing took far more time than taking it down. I do not know why, perhaps it was lighter in weight from moisture removed by the sunshine.
In today's classrooms, art teachers or craft instructors frequently use clothespins for their projects. I remember a three year old peering up at me at our Church Bible School. She asked, "What is this thing?" Of course, her inquiry was about the wooden clothespin in my hand. Hmmm………………….
Personally, I am glad of the childhood memories involving clotheslines and pins. Not only were those simpler times but the advantages far outweighed today's expensive dryers. The clothes smelled of fresh air — a scent impossible to catch even in the most expensive clothes softener. When a strong wind did the drying, sheets were soft to the touch, needing no ironing. Another lost duty in today's households. Underwear had the same softness and fresh scent almost exciting my skin when I put it on!
When my mother-in-law sold the family home ten years ago, the clothesline, though tattered from years of weather, still blatantly hung from wooden posts. In the backyard for all those decades, it gave me a secure feeling of times past. In simpler times when money was not as plentiful, moms stayed home and children played by running through the wet sheets!
Perhaps that is what our troubled world needs—Monday mornings with the washer still running, the smell of bacon and eggs lingering in the kitchen air and children laughing and playing — almost driving their moms crazy with distraction while she hung out the wash!
I can still see all the yards, one after the other, with laundry flapping in the breeze waiting to be taken down late in the day. I can still see happy children and their dogs running through yard after yard because there were no fences. I can remember Dads whistling at six o'clock as they called the children in for dinner.
But most of all, I can remember slipping into a freshly changed bed, feeling the softness of the sheets and falling asleep ready to play outside the next day. Those were simpler times…hmmmmmmmmmmmmmmm. I miss them!