This memory is still clear in my mind and heart because it was the beginning of the end of our family's way of life.  My husband, my child's father…was going to die.
I remember being relieved as I watched the sunrise.  The golden glow of the upcoming sun not only warmed my tired, cold, soul but it also comforted me with its light.  The unknown seems to lurk in hidden corners and the world is a different place when the dark of nighttime falls upon our earth. Morning was on its way.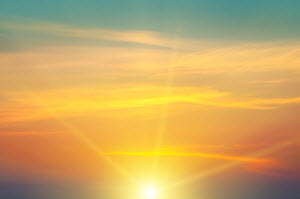 My husband, John, had awakened me at about 3 a.m. with his first seizure.  As we rode in the ambulance, speeding down the median of a well-traveled road, I knew we had entered a new era in his fight with cancer.  Perhaps we were blessed to have the semi-darkness instead of broad daylight.  Perhaps we still had time to hide our fears before accepting the reality before us.
After the MRI had confirmed cancer in his brain, we clung to each other.  I think John was far more realistic than I was. I felt sucker-punched right in my stomach.  Not knowing where to turn, I paced up and down the well-traveled hospital floors searching for something to do while he rested. Looking back, I wonder what I was looking for and now think it was the sunrise. Needing fresh air, I exited into the waning night.
Our son and daughter-in-law met me in the hospital parking lot so I was not alone.  The security guard that night was an old neighborhood friend who had grown up with my son and he joined us.  The power in the hospital had flickered off and on as we approached the entryway.  But the moon still cast down a filtered glow as we formed a circle of prayer standing on the asphalt driveway.  The words of Our Lord's Prayer, "thy will be done," kept shouting in my ears.
Years later, I am reliving those moments and still feel the fear that was racing through my veins that night.  I was looking for peace — finally finding it in that vacant part of the hospital campus.  I think God was tilting His light in our direction trying to warm our sad hearts. I know His heart was sad too because we were now headed down the final road of our fight with cancer.  John was going to die.
Finally, a few hours later with my husband settled in a warm bed and me in a chair next to him, we relaxed.  We were together; we felt the love we shared and we could rest.  There were many decisions facing us but for now, we both slept — separately . . . yet together. The chasm of space between us and the gift of sleep were ours to share.  God was in charge and we could rest. I do believe His arms rocked us gently.