On Saturday, August 3rd, 2013 a very special soul left the earth.  Her name was Henrietta Hartzell-Curran and she was eighty years old…in dog years. Almost twelve in human years. She was the niece of Herschell who had gone to the rainbow bridge on June 4th, 2012. In that instant when she breathed her last… my consolation was that they were… together again.
But, how different everything is for Jack and I. It is almost deafening noiselessness that has replaced the restless activity of them running, barking or scampering to the treat jar. Like music to my ears, those sounds for thirteen years crowded our day with responsibility for their needs that actually filled our needs.  The holes in our hearts are  fresh, also torn, and it will take  time to heal.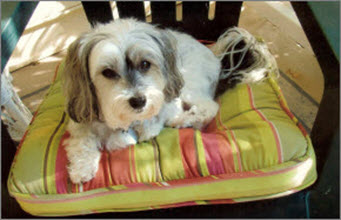 We have received wonderful, heartfelt emails and a few cards. My granddaughter made a card stating that they had returned to God.  That thought is comforting at times but then again not a few moments later. One thing, I have learned about grief is that going through the process is essential in order to love again, because that love will be different.
Several people have asked if we are getting another dog. Almost impossible for me to imagine right now but when my heart heals, it may be considered. Venturing into picture albums is impossible and really not necessary.  We both have actual visions of life with Herschell and Henrietta. Twelve years of adventures, escapades and endless hours of sitting close together.  These are the gifts of loving a dog, or dogs in our case. I believe they have enriched our own love story over the years.
The thoughts on this paper are the beginning of stories in the future. For now, these words are all the energy I have in expressing myself.  But…that is okay.