Many people believe that at some time in their lives they meet their soul mate. I firmly believe that old adage based on my own personal experiences over a lifetime of seventy years. I had my "soul mate" episode with my little Maltese-Yorky, Herschell.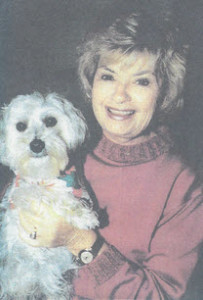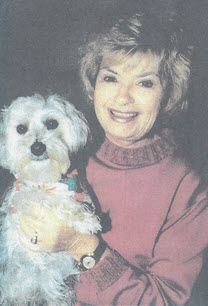 Herschell came into my life a year after my husband, John, passed away in 1998. From the first moment that he rested on my lap until his heart stopped beating in 2012 we were inseparable! We had a special friendship and shared many adventures. I always felt that when he looked me in the eyes we were connected by a special bond. Now, that he is no longer with me, I have learned to appreciate the gift he gave to me even more.
Herschell was also my "sole mate." We shared millions of miles walking together over the years. He was always good on his many leashes. I had the expandable ones, the short ones and then finally settled on a six-foot version upon moving to Florida. It gave me more control over this feisty, happy, little dog. Until the last year of his life, Herschell loved to run . . . run away is a better description! There were many heart-stopping moments when I was searching for him after he disappeared. Sometimes I had no idea of where he went but we always re-connected eventually.
One time, as a puppy, he ran out of my little backyard which was adjacent to a very busy highway. While calling his name, asking neighbors to help and running frantically about, he appeared, emerging from a large culvert in the subdivision. I remember throwing myself on the ground, hugging him, getting full of grass stains and crying for joy. He actually looked like he too was glad to be found and that he had a good home to return to. Funny, after all these years, that particular reunion stays forefront in my mind.
Our walking journeys covered not only miles but terrain. We walked through woods, over bridges, jumped puddles, on gravel and concrete roads. His little feet kept up with mine, going twice as fast. After all, his legs were shorter and he was closer to the ground. Too bad I didn't keep track of all those walks. I bet we covered half of the world in distance during the twelve years we were together.
On our walks we met many dogs and many people. Anyone who walks a dog knows this is true and also that we "dog people" are genuinely happy souls. That was how I always felt when I walked my "sole mate." In Florida his little feet got hot and toughened by the asphalt roads in our community. I wish that I had invented little sandals for his paws, thus preventing this abuse. But Herschell, being Herschell, would have found them to be toys — not protection. I smile thinking about this!
I am writing this in celebration of his life . . . specifically on this, the third anniversary of his passing. I have his leashes in my Herschell box that I will take out on June 2. Many scarves from groomers, leashes and collars are part of its contents. Even the set we bought in Paris many years ago. I will touch them with tears rolling down my cheeks. Then the box will go back on a high shelf for next year's visit. So I believe that "soul mates" come in different forms. Mine was a little dog named "Herschell" who truly knew my soul and I his. I was blessed with his friendship and devotion and I miss him.
My wish for all of you is that you have a soul mate or perhaps a sole mate like Herschell.