MY MOST MEMORABLE CHRISTMAS…. the title speaks for itself.  As we know certain Christmas memory is embedded forever…this one was.
When John Taylor was eight years old we decided it was time for him to have his father's train set. For months, after JT was in bed, John worked on the train table. He painted roads, constructed buildings and fashioned an intricate route complete with bridges and overpasses. During the day the project was covered up in his workshop. It would remain a secret until Christmas Morning.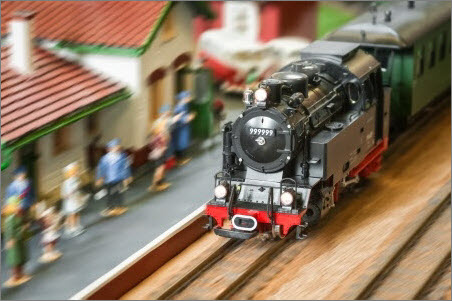 Christmas Eve was cold, with a light, powdery snow covering the ground. While JT and I baked and frosted cookies, John went to the basement for "one last look" at his project before we ate dinner and prepared to go to Midnight Mass. He bounded down the basement stairs and, a moment later, he appeared again in the kitchen looking distraught. He whispered to me that he had to go out and left without my knowing why.
Evidently, while giving the train engine a test run, he discovered there was a necessary plastic part missing on the engine. Later, he told me that he raced to Toys R Us, believing that on Christmas Eve after weeks of holiday shopping, the store would be closed. He arrived and saw that our car was the only one in the huge parking lot. He ran to the front door just as the manager was turning off the lights. Taking a chance, he rapped on the window and waved to the manager.
The manager came over, unlocked the door and listened to John's dilemma. This kind man said, "Please come in and let's see if we can find that piece you need." And he was able to find it! John was so thankful. The manager told John to enjoy his Christmas and when asked how much the part would be, responded by saying No Charge! As he walked to the car, John swore he could hear jingle bells in that vacant parking lot.
That night, before going to sleep, he told me the story. As the moon shone through our bedroom window, the stars twinkled brilliantly, and the morning was quickly approaching. I, too, thought I heard jingle bells, accompanied by a choir of angels singing, "Happy Birthday to Baby Jesus."