There are many times as a parent that protecting our child from the hurting world is a natural response. All of us remember the ups and downs of growing up that challenged our families. Though most days were good, enough were not good and those were the ones that taught us a lot about the "parenting" role.
Considering we do not take a course in "how to be a good parent" or receive a diploma from "parenting college" we all do pretty well at our jobs of mother and father. If a single parent role is ours, we serve both roles with honor though common sense tells us it is hard. Having two parents is ideal but not always possible. I have met many children raised in a household served by only a mother or a father. Somehow, we all grow with our children one way or another.
When my son was nineteen, he was involved in a tragic auto accident that resulted in the death of a young boy. Though he was exonerated, this event changed my son's life…especially now that his own child has turned seven, the age of the deceased boy. Many years have passed, but the reality of this accident remains the same.
Of course, we were sued for millions of dollars. Five years of legal counsel, reenactment of the accident and finally an ensuing trial. One month before my twenty-four-year old son married, he sat in a courtroom telling his version of the fateful event. As his father and I held our breath, my friend Lyn, who had volunteered to accompany us leaned over and said " You should be so proud of John."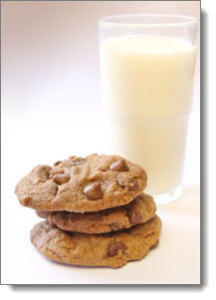 With tears welling in our eyes, we agreed and suddenly the aroma of chocolate chip cookies wafted in front of my nose. Perhaps "fed" by many memories, my mother's instinct wanted to put me in the kitchen baking a batch of his favorite treats. "Milk and cookies" in that moment would have been delightful and that thought filled the remainder of the morning.
An hour later, the trial was over, papers signed and finally a chance for the two families to meet. Afterwards, we headed to my car…and cried.
Six weeks after the trial, his father, my husband, died peacefully in our arms. Looking back, life was a blur of events, but the focus was always our family's love for each other. I think in special moments of celebration and heartbreak, we always have our own "milk and cookies" time.