LOST. I entered this story, based on the last years of my father's life, in a writing contest recently. The challenge question was to create a setting when someone was very lost and then found. I witnessed my father's first time lost and tried to pass on the heartfelt loss he must have felt. Alzheimer's teaches us the power of people and the gift of memory.
This story is about a woman experiencing the "terror" of being an Alzheimer's victim. It will describe the first time she is lost in what was familiar territory but which now seems foreign. My Dad died from this sad disease. Some of my observations will be personal and realistic. I will try to capture the essence of the havoc and confusion such an episode creates.
A streak of terror cut through me like a knife.  "Where was I?" "What was I doing here?" "Where was I going?"  I stopped in my tracks — not steps — because a light coating of snow crunched under my tennis shoes. As I looked down, I felt my feet getting colder – my heart racing – and I wanted to cry!
Horns were honking and suddenly I detected a loud voice screaming, "Hey, lady, get out of the street!" Could that be me they were calling to? In that instant, I decided that it must be me who was in the middle of the street. But I could not move! I was stuck in the sticky snow. My shoes would not move and neither could I!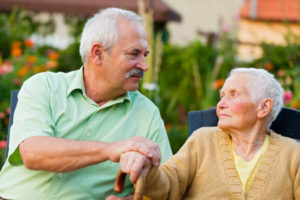 A firm arm threw itself around my shoulders and pushed me to the curb. I must have been almost dragged into this position because I don't remember moving my feet. It happened so quickly that I did not have time to look behind me to see the origin of this force. Instead, I went where I was supposed to go almost as a rag doll. In fact, it was nearly impossible for me to stand on my own anymore!
Slowly the fog in my brain started to clear as I looked around me. I still had not turned my head because the noise and the cold breeze grabbed at my senses. Again "terror" ripped at my heart and my fingers seemed numb.
Suddenly, I remembered the building in front of me across the street. There was a red and white awning flapping in the cold breeze and an icicle dripping off what looked like an ice cream cone. Hmmm . . . I remembered my son when he was six years old holding my hand in front of that store. I looked for him but he was not there. Where could he have gone? Where was he? Why was I here?
In that instant, I felt alone. I did remember the ice cream cone and the memory of that day with my son, but could not figure out why I was where I was now. I know I started to question myself, muttering the above sentences, frantically looking ahead at the store. I would feel so much better if I could hear his voice.
"Mom . . . it's me. I'm behind you. Take it easy, Mom."  Yes, yes it was him! I could hear his voice, I could feel his arm, and he was here!  If I could have, I would have jumped up and down with glee.
Slowly I turned my head, looking up into my son's face. He is smiling but tears are rolling down his cheeks. I want to comfort him, dry his tears and buy him an ice cream cone. But I can't. I have no money. I have no boots, only tennis shoes and I am without a coat. I'm getting very cold.
He puts his jacket over my shoulders and takes my hand. I look up at him now remembering the day at the ice cream store many years ago. Except now everything is different. He is caring for me like I did for him so long ago. Perhaps another day we can share an ice cream. But for now, I let him lead me to where it is warm and safe.
Then my son said, "Come on Mom, let's go home."