While putting away cleaned utensils, I looked at my silver knife. Kept with all the other kitchen tools, it is by far the most treasured cutting edge in the drawers. Though it shares space in a neat partition, the knife holds many special memories.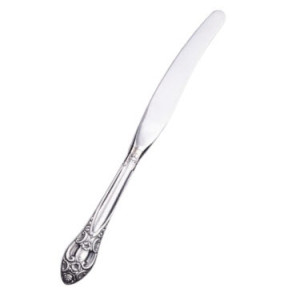 My mother-in-law Bernadine gave me the knife early in my marriage to John. She placed it in my waiting hands saying, "Mary, there are only four of these knives. You, Pauline, Linda, and I each have one." Taken from a place setting of eight, she did not know where the other ones were. So, I took the responsibility of her words seriously.
Over the years, the knife would be tarnished. After all, it was real silver! I would polish it, use it, and then put the knife away until another occasion.
Many cakes were frosted with its wide, smooth blade. The now old, used tool spread Brownies, ice cream pies and even frosted Christmas treats. As the years tumbled by, I moved it from house to house even taking the knife on trips because of its value.
Value…What am I really trying to say? The knife certainly was not perfect. There were scratches, even a dent on the handle and again it would tarnish. Carefully, I would coat its surface, wiping off extra silver polish and admire the beauty now restored to the knife. I always knew where it was stored because of its value to me and for its real worth.
In my opinion, value in today's families is threatened. With the large number of broken homes and many living arrangements made when people part, I am sure heirlooms of value are lost. This knife is valued not only for its dependability but for the memories attached to it. Our family home was changed forever when my husband, John, died. The knife means even more to me because of the association with his family.
First, my mother-in-law used the knife, now I and eventually my granddaughter. If it could speak, I am sure tales would be told about the many delicious creations it helped to build. Perhaps even a fiasco was avoided when it helped to cover up a burned cookie or an over baked cake. Its ability to make a victory out of a catastrophe has been appreciated by me over the years.
The silver knife is a valued treasure. I wonder how many generations it will serve and help to celebrate life's happy occasions.