After an email from my friend, Pat, I ventured onto a webpage to see two adorable , little white dog faces looking back.  Pink tongues peeked from their mouths, bright black eyes and scrubby fur covered their puppy bodies…in an instant, I fell in love.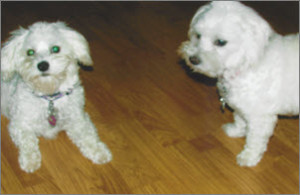 I placed a call a few minutes later.  A very determined, strong female voice answered and calmed as I told her that I was inquiring about the puppies on the webpage.  Her voice softened with almost a musical tone to it and her laugh was light and airy. I instantly liked this lady whose name was Laney.
I wrote down information and later shared it with my husband.  He suggested we drive down to see the dogs even though it would be about two hundred miles away.  At first, I thought he was joking but he was not.  With tears edging his blue eyes, he said, "Mary, we were going to adopt puppies near Christmas anyway."  I agreed with him. Thus our weekend plans were made, phone calls to Laney ensued and we were on our way.
As we closed the doors, I turned back only to imagine Herschell and Henrietta standing in the entryway.  Knowing that was impossible, I shrugged my shoulders and picked up my purse holding a check… just in case we brought the dogs home.
At this point, I thought that was not going to happen… but it did.  Two days later, we had two rambunctious, totally undisciplined puppies in the backseat with me. Coming home to a quiet house with no "dog  things," I felt like we brought home a baby to live at our house;  one of those life changing events that we shared together.  At 82 and 69, we were in charge of little animals whose lifespan would probably outnumber ours…
Now several weeks later, I am writing this story. The two little white dogs are next to me. One on the fluffy, blue rug and the other curled up on my flowered chair.  They are obviously contented and so are we.  I feel like we all are in this room because Herschell and Henrietta's cedar boxes are next to my desk.  I know they  too, share in the love of these  additions to our family.
Oh yes, the names of the little white dogs are Emma and Anna.  Lifting their heads when we call them, they seem happy with their names. Again hearing dog paws crossing our wooden floors, we smile at each other. That is a really nice sound to our ears.