The Christmas Pageant
My Dearest Child,
With Christmas coming in a few weeks, I thought you would enjoy this story. It involves God's love and protection. I think you will like the message.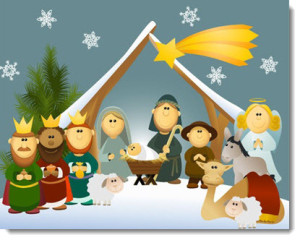 When your Dad was ten years old, I volunteered to direct the next Annual Christmas Pageant. I was given a few instructions and also two big boxes of costumes. You know — all of the animals that were in the stable with Baby Jesus — so the outfits were for sheep, cows, and even a pig. An older lady had made them and they were beautiful.
I took the boxes home and put them in our basement storage compartment. I kind of forgot about them during the busy family summer we had. Sometime during the Fall we experienced a very heavy rainfall and our basement flooded. The rain was coming so hard and fast it woke us from a sound sleep. I was terrified when I thought of the boxes of costumes we had stored down there!
The house lights flickered on and off and finally stayed on. I opened the basement door and looked down the stairs. There, lapping against the bottom step, was a wave of water. I called out to your grandfather in a loud voice! Then we both just stood there looking at the rising water.
In a few minutes, we walked slowly down the steps and were careful not to touch any electrical wires because they are dangerous near water. We waded through the five inches of water, watching boxes, bottles, and a few toys float by. I was afraid to look for the costumes! I shut my eyes and prayed to God for his blessings in keeping them safe.
As we arrived, facing the second shelf, expecting it to be soggy and wet, we were elated to see everything dry! I scooped up one box and grandpa, the other. We went upstairs clutching our treasures still not sure what would be inside. Quickly opening the flaps, a fleeced lamb face looked back at us — dry to the touch! "Thank you God," we both shouted!
Carefully, we laid each costume out on tables to air out. We were so happy!
A few weeks later when the Annual Christmas Pageant was over, I looked up at the beautiful, winter night sky. "Thank you dear Jesus for the gift of you," I muttered with tears in my eyes. "Also for keeping the animals in the stable dry and safe from the storm. And thank you for keeping my family warm with your love all the days of the year."
MERRY CHRISTMAS JESUS…
Love you sweet child,
MAMIE