My First Valentine . . .
Dearest Grandchild,
I am writing this at the end of the day — Valentine's Day, 2016! This is your ninth Valentine's Day here on earth. Always a loving day, it gives us a special chance to say "I love you" to the special people in our lives. So, Happy Valentine's Day to you, my sweetness!
Jack and I were telling each other stories the other night. He told me about his first Valentine's memory when he was four years old. That would have been in the year, 1935! A very long time ago!
His mom had gone to the hospital to give birth to his brother Jimmy. She was going to be away from her family for about a week including February 14, St. Valentine's Day. The new baby was born on February 13. On her dinner tray that evening, there was a heart-shaped cookie. After dinner, she wrapped it up in a napkin and gave it to Jack's father to take home to Jack as a Valentine's remembrance.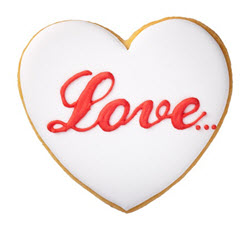 Hours later, Jack's father handed him the cookie carefully wrapped in the napkin. He opened it to see thick, white frosting with red sprinkles. He felt very special and kept it for right before bedtime. Then his Dad poured a tall, cold glass of milk and Jack ate the special treat. He told this story with tears glistening in his eyes because that cookie was part of a love story. His parents loved him very much and he knew it!
I hope you had a special day today filled with love and perhaps a cookie. I send my love across the miles to you, my special child, and wish for you many memorable Valentine's Day treats during your lifetime.
Always love,
Mamie