I wrote this piece a month after, Herschell, died. I think it is a realistic depiction of grief felt losing a loved one. Please try to FEEL my memories as you read the story.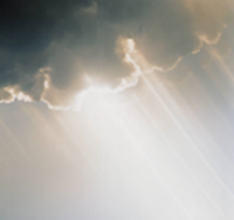 "There are storms we cannot weather." These words are part of a beautiful song from Les Miserable's. I remember finding their meaning real in my life when my husband died in 1998. It helped me to think about his cancer like a storm.
A month ago, my beloved dog died.  For several months, we had seen him change.  Not feeling well, he frequently found solace under our bed or in my closet.  Everywhere I would go in the house, he was there too.  Always devoted, this intense need to be with me was both assuring and frightening. My friend remarked after he had died that the last time she saw him during one of our parties and he insisted sitting on my lap that he was indeed not the dog of long ago.
The pain my family has felt is still very sharp in our hearts. Tears still flow easily and I have accepted that they will for a long time. I still look for him in all his favorite places; I expect him at the back door when we return to the house.  Frequently, upon awakening in the morning, I walk into my study where the cage used to be and realize it is not there. Instead, it sits folded in the garage ready to be given to a pet shelter.
Over the years, his favorite toy was a large stuffed dog. He would grab it by the neck, carrying it all over soon to be smashed to the ground and pounced upon.  He loved playing a game where I would throw the toy, he would retrieve it, and then I would throw again. This was about as serious as he got in this game.  Another favorite pastime was picking the noisiest squeaky toy, one that had lain dormant in his toy pile all day, and competing with Brian William's world report.
My dog did not care about the world as long as there was great dog food, puppy pepperonis and us.  Simple, yes…how wonderful to be basic in his need, but also fulfilling ours.  I miss him so.