I Wrote This Story at The End Of Summer 2014
Our young Nigerian priest shared a story about his childhood at a Sunday mass last September. With a small smile on his face, and his eyes brightly shining, the words slid out of his mouth. He recalled the first pair of shoes that had adorned his feet in the ninth year of his life when he entered the third grade. Until then in his impoverished home country, shoes were a luxury only bestowed on the older children of the family. He showed his sense of humor — and also his pride by kicking his feet demonstrating this beautiful memory.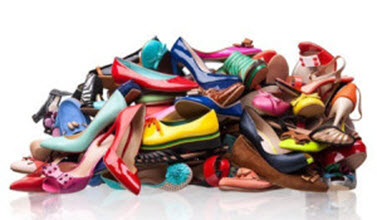 The timing of this homily was perfect. School started the next day in America. Shoes had been advertised for weeks on colorful pages of magazines and newspapers. Ads just flaunting shoes cluttered our garbage can last week and again this week. So the story of the shoes made an impression on us all. Yet, his story highlighted a huge difference between our culture and his.
We have hundreds, even thousands, of choices. Most likely, we all have at least ten pairs of shoes in our closets. I would imagine most of our children and grandchildren have the same. We also did not have to wait until we were nine years old. Baby showers tout little silk shoes as common gifts to a new mother. Thus, shoes from birth and on are a big part of our daily dressing routine.
Ironically, the altar boy was wearing new yellow shoes. Because of his height, the yellow shoes seemed more prominent as he made the necessary preparations for the Eucharist. I doubt if I was the only one aware of the bright shoes as I gazed ahead. I think God's sense of humor might have tweaked this experience along with the subject of our priest's story. Kind of perfect I thought.
The whole morning lent reverence to my Sunday. I think appreciating God's blessings is essential on a daily basis. Today….I feel blessed to have shoes. Thank you Father Bernard!