My first Christmas morning, as a newly married bride, was not spent with my husband. Instead, we celebrated thousands of miles away from each other. He was in Danang, South Vietnam and I was in Glendale, Wisconsin. There were no cell phones, email or fax machines. Instead, there were only memories and the promise of new ones ahead.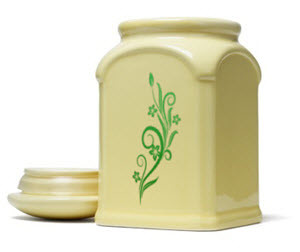 As my family opened Christmas gifts, I spied a huge box in the corner under our tree. So busy watching and enjoying the joy around the room, I was unaware until my Dad pointed to the package. He said, "This is for you Maryann.'' I squirmed with delight as he lifted, and placed the package near my slippered feet.
I tore open the paper, ripped off the ribbon, and spread the tissue paper apart. There gleaming back at me, were four beautiful, yellow canisters. Quickly, I pictured them on our apartment counter sometime in the future. A place that neither John nor I had ever seen except in our dreams.
The canisters were very special! My Mom and I had seen them in a local gift shop window. I had admired them over and over, as I passed each day on my way to work. Then one day, shortly before Christmas, they were gone. I was very sad and mentioned this to my Mom. She too, appeared disappointed.
When I opened the box, saw the canisters, and cried out in glee, my Mom and I shared a special look. In an instant, I again saw them on our apartment counter filled with flour, sugar and coffee. In fact, I was sure I could smell the aromas of these ingredients. For an instant, I imagined my husband was sitting next to me and enjoying homemade treats made from the canister contents.
Ten months later when John returned from active duty, we began to live what had only been a dream. Our kitchens bragged with the beauty of the yellow canisters as we moved to different places over our thirty-two years of marriage. John died in 1998.
Only one canister remains now. I have it on a special shelf in my office. The beautiful yellow, shiny sheen and decorative artwork remind me of days gone by. But also of days ahead, making new memories with my family.