For many reasons, I chose to have a private interment for my husband. My main focus was protecting our son from a "public burial." A short service led by our beloved pastor took place. Then we all touched the coffin and went home.
Many years later, as I tell this story, I know this was a good decision. Instead of the 200 people who attended his funeral, only a handful of special friends joined our family at the gravesite. This took place in mid-afternoon on August 12th, 1998.
Anyone who has experienced this portion of a funeral service knows that where a tarp is draped on the ground – a hole lies beneath the covering. I am sure such a gesture is done to protect the family.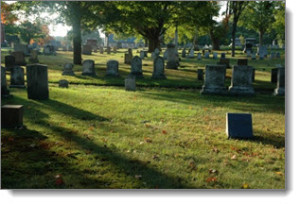 Chairs were set up under the huge maple tree's welcoming shade. One of the reasons we selected this place was because of the tree. Its special overhanging branches would provide an "umbrella" of shelter over the years. It was a good spot!
As the cars began to exit I observed two young men, bearing shovels, peering from behind some pine trees. Waiting to finish the burial, they were respectful of our privacy. They waited quietly as the hot sun rose high in the blue sky. I appreciated their patience as my son's family and I entered our car. Looking back out of the window, as we slowly drove along the white gravel road, I saw them approach the grave. They were going to bury my husband John.
Even though my heart was breaking with sadness, I felt joy! John would have loved the fact that two young men were securing his final resting place. Ironic, because he loved and led our church youth group for many years. He believed in the young generation – he was young at heart!
This irony was a special gift from God. Who better to care for him than two young men. Almost the perfect ending to a too short life! Yet a life well lived, always celebrating each day even when the illness robbed him of many things.
Today as I return from a winter visit to Chicago, I am filled with happy thoughts. Snow, ice and cold winds were present but I found warmth in knowing that John was safely and carefully covered with hallowed ground. I feel that he is secure with a blanket of love. When I visit, I know that we have a special place where he rests – a place marked by memories.
I thank these young men even though they did not know "Mr. H." If they had, I think they would have felt privileged assuring his comfort…and ours.