Several years  ago we visited the ground zero area.  This story originated there and hopefully will impact you with its implications and meaning….
On September 11, 2001, no one in the cemetery moved!  Instead, the old, deteriorated, headstones observed the end of over 3,000 lives. Stoic and quiet, facing the disastrous demise of the twin towers, the many stones remained as the ground rumbled around them.
Loss of lives, loss of modern buildings and the loss of anything definite in life, occurred in an instant!  One-minute people were standing at the coffee station and the next running down a stairwell.  One-minute sipping hot liquid and the next minute frantically leaving messages on home answering machines as they filed down the long staircase.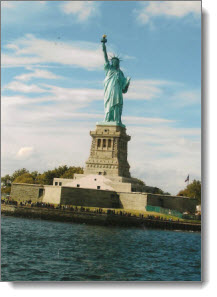 None of us will ever know what thoughts raced through thousands of heads. Perhaps with God's loving intervention, fear was only minuscule.  Perhaps, hope, good memories, plans for that evening prevailed as the people trudged down the concrete steps. I do believe that hope reigned fully and freely as a gift from our Lord.
The stone grave markers and the stone steps really only shared their substance in common. Concrete has a lasting presence with its hard strength created from sand and water.  However, that terrible day saw little strength in the concrete building walls as they collapsed into dust and rubble. Across the street, the gravestones stood like statues observing and absorbing the horrible explosions.
The stone markers had survived generations but the stone buildings were gone forever.  Two kinds of markers created by humankind.  One still standing and the other lying in a shouldering heap.
Now, thirteen years later, there is still a quiet sadness in downtown Manhattan at Ground Zero. When I compare the gravestones, I think of sadness long ago felt by families who buried their loved ones here.  Then I think of the sadness of families who lost a loved one in the twin towers who would never have a grave marker to visit.
Perhaps God's plan was to have the cemetery exactly where it still stands today.  Perhaps long ago, in His infinite wisdom, God knew of this eventual tragedy providing some comfort through those old burial sites. With this in mind, I chose to believe this philosophy and find peace thinking that no one died alone. I pictured the arms of the grave spirits reaching out to embrace those falling from the skies.
Several years ago, I saw a painting depicting the falling towers and a cloud of people being lifted up to Heaven.  I like that idea and think the artist had a beautiful vision. If I had lost someone that day, comfort would be possible looking at that painting.
After my visit to Ground Zero, I have many memories.  In the early afternoon, there was little talk as people stood to observe the sacred setting.  Others almost rushed by towards their busy lives. Perhaps they were trying to ignore the real feelings still shared by visitors like us. I do not hold that against anyone… I think it is human.  If I passed by on a regular basis, perhaps I too would hurry on the crowded sidewalks.
For now, I am content to be saturated in the sadness of the disaster.  Yet, in fairness to God and to the victims staying in that kind of thinking is… wrong!  Like the stone markers, this place will live on forever.  Different structures will be built, all the debris hauled away and new, young trees planted.  However, the aura of 9-11 will always be present.
I do believe that the voices of those lost still fill the sound waves. I believe that their spirits will always be present as a gift to their families.  I believe that they all would have loved to leave a message. "Hi Honey, I'm on my way home from work. Can't wait to see you." However, they could not.
In honor of that infamous day, we should not take America for granted.  We need to be thankful for the little things in life knowing that like gravestones, we all will strive to leave our mark on the world. No matter how long we are here, we can make a difference.