Another story based on this same trip to France. I think it is fitting on this commemoration of D-Day — igniting our pride as Americans while mourning the loss of so many young lives.
I have always loved going to the beach.  One of my fondest childhood memories is our annual road trip from Wisconsin down to Florida.  After two days in the car, three tired kids, and two exhausted parents, we crossed into the sunshine state. I remember my Dad stopping on A1A, opening the doors and letting us all run down to the ocean waters.  What joy we shared!
All through my life, the opportunity of spending time at the beach has been important.  Now, of course, the sand, surf and freedom felt on the beach are on my terms.  I come and go as I please since our home is fifteen minutes from the Atlantic Ocean.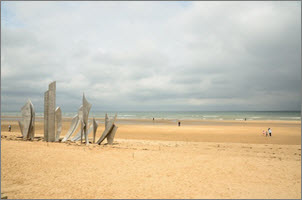 At age 71, I have a different vision of the beach.  On a recent trip to Normandy, France, we spent time on the sand that lies on Utah and Omaha beaches.  This same sand received heavy gunfire and bombardment and was soaked with the blood of American, Canadian and French soldiers as they came ashore on D-Day — June 6, 1944.  Before many of us were born!
Not only was viewing the beach from a Normandy cliff awesome, but walking on the sandy surface was surreal.  Any of us who have seen the numerous movies and documentaries about this famous day could almost hear the screams of dying soldiers and the stifled sobs from survivors.  Our bus was very quiet as we left the memorial site on a windy, Tuesday afternoon.
I scooped up a small bag of this special sand.  Taking it home to display on my desk will be a daily reminder of these beaches.  I will be aware that the reason my childhood could experience joy on the beaches of Florida was because of the sacrifices made on these Normandy beaches.
We must never forget the 9,365 men and women who died in the D-Day invasion.  The actual fighting lasted two weeks, finally silencing the two German machine guns that caused so much death and destruction.  Gun turrets still stand — aged by rain, wind and surf.  Built by local town masons on the orders of the German Army, they remind us of the strength that war holds over mankind.
My granddaughter loves to dig in the sand.  We build sandcastles, make sand cookies and write messages in the sandy substance.  Someday, I will show her the tiny container of sand while sharing this story.
But for now, it is important that she rejoice in her childhood fun as we make new memories. It is because of D-Day sacrifices that she can dig in our beautiful, Daytona sand.  She can enjoy the freedom of running in the surf, feeling grains of sand between her toes and erecting structures with the wet sand.
Maybe those who died on the famous beaches of Omaha and Utah rejoice in her joy.  The average age of all the soldiers was between 17 and 26. I know they would have loved such a beach party filled with laughter and love.