These thoughts originated from my work in Senior Services. I am sure that since my experience, many new programs are available to families. But music sends special memories to our brains, no matter how old we are…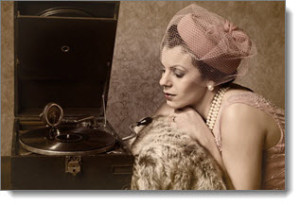 When you visit an Alzheimer Unit in a Nursing home, frequently piped into the overhead speakers are old songs. If you are very young and not part of the last fifty years of music, the melodies will not be familiar. But to those of us who have lived during these years, we can probably remember when and who we were with when we heard these songs and various details of our youth. In other words, music is a language of memory filled with good and sad thoughts.
That is the basic premise for playing old music in these facilities. Patients, almost catatonic, can be seen tapping their feet, clapping their frail hands and even humming with smiles on their withered faces. These patients, lost in their own minds, come alive as they re-enter the happier times during their long lives. Anyone observing this will find tears rolling down their own cheeks!
I found the music a highlight when I worked in senior services before my retirement. Taking clients to visit their loved ones was part of my work – I loved it! For a few minutes we were all marching to the same "Beat" even though our lives were very different. Couples separated by this terrible disease once again held hands and cuddled, sharing romantic thoughts from their youths. My work was fulfilling and I too was fulfilled!
Now years later, in my Florida home, we play a lot of music. My husband Jack and I are in a new marriage of only thirteen years. Yet, even though we were not together physically when a lot of the music was new, we share many of the memories. Life before us was rich and we are very blessed. Now our lives are richer still as we grow older!
This morning, while I was doing the dishes, a particular love song came through our speakers. I had to stop for a minute to reminisce of years ago when my life was filled with many who are no longer here on earth today. As always, I acknowledged their memory, sighed and took time to just "remember." When the song was over, I went on a bit happier for having relived a good memory.
Many experiences connect mankind, but I believe music brings us all together through different tunes. I guess that is why the old expression, "Music is the Universal Language," makes sense. Think about it!