This is a chapter from the book… butterflies and life… two parallels in nature. 
Yesterday, I held life in the palm of my hand.  A newly born Monarch lay between my fingers.  His body was warm and soft as he fluttered handicapped wings.  One of the four main structures in his wings appeared to be underdeveloped.  I knew with that problem, his life would be short.
I laid him carefully on a soft tissue planning to revisit a while later.  And yes, several hours later, his body was still and relaxed.  His short life was ended, but not the impression he made on mine.  Hence this story.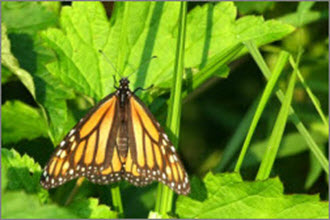 As we age, thinking about our past and present life absorbs many of our memories.  We still plan for the future, but perhaps a bit more tentatively.  I have always believed in the future and many of my goals have been met during my life with a few still remaining.  The past provides such comfort and even regret about things that might have gone differently.  However, regret is not a good place to spend a lot of time.  We learn early in our lives that no one is perfect or right all the time.
While visiting my family in Greenville several years ago, my granddaughter was sitting on my lap as we watched a favorite DVD.  I remember feeling the warmth of her little body pressed against mine; also feeling the many beats of her heart.  I marveled at this miracle of life especially hers; which truly had been a very short time.  I loved this closeness physically—relishing its beauty years later.
When my husband, John, died, we all held him as he lay in our arms.  I remember putting my head on his chest to hear the last beat of his heart.  I felt privileged to be part of a life that was full of love for my son and me.  We were honored by his presence still missing him now, especially on his birthday.  Family closeness, conversation and sharing of memories are especially important on that day as the years pass.
This morning, while I was watering my plants, I saw another newly born Monarch.  He too was struggling but with full wings that would eventually open releasing him into the wind.  Later, I went out to see if he was gone and he was.  I am sure that we will see him in the next few days sweeping up and down by the house.  Full of life, the beauty of the butterflies will provide wonderful entertainment on future days.
Life is sometimes long and sometimes short.  Its beauty is not only physical but also spiritual, a gift from God.  This beauty is fragile, easily cracked if not cared for, yet in the case of the Monarch that died, replaced by another healthy one after him.  I use the word replaced sparingly because everything is individual and special.  If something leaves us, something else will come along making us not forget… but appreciate life even more.
As I end this story, there are six cocoons hanging in various places on our front porch.  Each one holds a life, short or long.  In either case, the gift of their future lays locked inside the tiny egg like sac.  Only time will awaken the butterfly and allow our waiting eyes to focus on its gaiety.  Joy in my heart will replace the sadness of loss because that is what life is all about.  That and love.