The Tea Set
As grandmothers, I think we all want to leave a legacy to our grandchildren.  A little bit of ourselves that is a gift to the next generation and hoping our time with them on earth has made a difference.  I pray that my granddaughter always remembers our "teatimes" with me, MAMIE.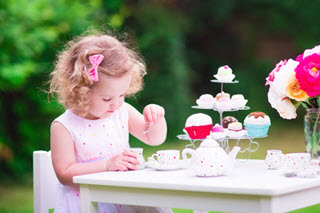 On a trip to Holland many years ago, I searched for something really meaningful as a gift for her. As we traveled through the many stores that lined the waterways, enjoying the acres of new daffodils and tulips popping their heads up from the frozen earth, I found the "gift" that I thought would be special.
In a small shop that nestled below the revolving arms of a windmill, I saw a tiny tea set of blue and white cups, saucers and little plates. Almost doll like in size, they reached out to me, saying, "Here I am…Alivia will like me."  Carefully, after much direction from my husband, the clerk handed us a box cushioned with mounds of tissue paper around the tea set as we left the store.  "Yes, this was going to be special."
Now, years later, the tea set holds a prominent place in my kitchen cabinets. It still is somewhat intact with only a broken handle on the sugar bowl and a chipped plate.  I smile with memories each time I pass by. I am thankful that we found this perfect gift that has created many hours of playtime, lots of tea, juice and milk in shared cups and, of course — time with my grandchild.
On many occasions, I bring the tea set to wherever we meet.  A special box is designated for the pieces and we lovingly unwrap and set up the tea set wherever we happen to be.
The request, "Mamie, can we play tea?" rings in my ears long after we have parted.  Just the fact that she has grown to love this time together instills the hope in my heart that years from now she will set up the little tea set for her own children.  And maybe, just maybe, she will hear my voice, "Oh, Alivia, you make wonderful tea."
What a nice wish!