Painting Easel
As the oldest of three children, I grew up sharing my toys and books with my brother and sister.  Actually, this was easy for me because my siblings found the same joy in those possessions as I did.  But when I was ten years old, I held tight to a special gift from my parents — a sketch pad, box of Prang paints and new brushes were my birthday presents that year.
As I utilized these "art" gifts, I discovered a love of drawing and a talent that impressed others. I felt confident that I could sketch and paint many things . . . except horses. So, I began to copy the horses in one of my favorite books. Over and over I traced, and eventually drew, those beautiful creatures.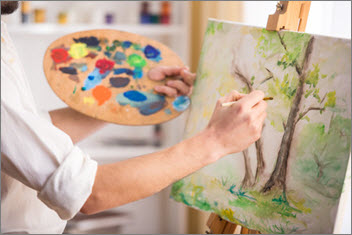 That Christmas, Santa brought me an easel.  What I learned from a note penned by him, was that my Dad had built it . . . not an elf! No wonder my father was grinning from ear to ear that morning.  This is one of my fondest childhood memories.
The easel traveled with us on several moves, to college for four years and even to the first apartment your grandfather and I shared.  Then one cold, winter morning, it just fell apart, making us very sad.  I looked at the wooden pieces and rusty nails as they lay in a heap.  There was nothing we could do to fix it!
Eventually, I bought a metal easel but it was not the same. I always felt a special love when I painted on the wooden one my Dad had made for me.  I was sure he smiled, knowing that his gift of the easel was a lifetime gift to me.
Several of my best paintings were done on that easel. In fact as I write this story, I can hear my Dad's voice of encouragement. I believe that his "belief" in my talent has propelled me to love drawing to this day!
My sweet child, you have a special easel in your room, a gift from Santa several years ago. I know that many beautiful paintings are in your future.
After all, you have artist blood pumping through your veins!
Loving you always,
MAMIE