Joyfarm Riding Camp
My Dear One,
I write this letter while gazing at a picture your father took last weekend.  You are sitting very straight in your saddle, posting rhythmically to the stride of your rescue horse, "Bobby Cooper."  A broad smile is painted on your nine-year-old face and I feel joy!  That feeling is mixed with many memories of my own "horse" days.  Let me share some of them with you!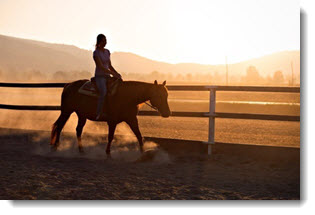 Ironically the name of the local stable where I took lessons was JOYFARM! I assume that name originated with young riders, like me, your grandmother, filled with the Joy of the farm.
I can still smell the horses, the scent of manure, even the leather polish, called saddle soap,  for the saddles in the tack room.  My heart always accelerated as the bus stopped each morning in front of the barns. We could hear the stable come alive as we all stepped onto the stony driveway.  Summer camp had started!
Assignments were given to each camper and the same horses were saddled up waiting to be ridden.  My horse was named Bandit and he was a retired military horse. Black in color, fifteen hands high with a white star on his forehead, he was MINE for two weeks each year.
I remember wanting to own him but it never happened.  Sadly, my Dad explained, that the expense of the horse was impossible for our family.  But that is not important now! You have this privilege and that brings me . . . JOY!
So my sweet "horsewoman" enjoy learning all there is to know about "Bobby Cooper." He is lucky to have you in his life!  Perhaps you can read this story to him as he is enjoying a peppermint!
Loving you always,
MAMIE