A Makeup Lesson
My Dearest Grandchild,
It's hard to believe that you are going to be ten this month.  One of my many fond memories of this year is the day we practiced . . . makeup!  I think I enjoyed it as much as you!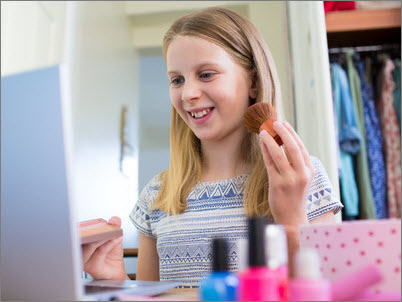 I believe that the use of makeup should only be to enhance one's own beauty.  In your case, your eyes and mouth will be made even more beautiful with color. You and I practiced with colors and I told you that browns, gold and green would be attractive on you. So always stick to those colors because of your hazel eyes.  As you know, you have my mom's eyes and your Dad's eyes . . . very Irish!
Remember, just a hint of color on your cheeks and a touch of mascara on your long lashes.  Again, you want to enhance your natural beauty not cover it up with thick goopy products!  And always, always finish with a bronze powder, one with a few sparkles in it is perfect! Lip colors — oranges, reds and deep pinks will work for you!  Then, stand back and gaze into the mirror!  I think you will be pleased.
A really important reminder as you grow older, is to clean your skin each night. Then use a good moisturizer. Skin gets dry because of weather and aging.  I promise you that if you keep these two things at the top of your list . . . you will grow old beautifully!
There, voila, and kudos to you my sweetness.  You have a makeup lesson from your grandmother.  I think these suggestions are easy to remember and easy to do each day.  So when you look in the mirror, it will smile back at you, making you feel truly beautiful.
I love you.
MAMIE