"Hey, Mom, meet MacKenzie" my proud son announced.  This introduction to my first granddog seems like yesterday.  Yet, fifteen years have passed.
Yesterday, I again met MacKenzie as I walked into the house.  But age had robbed his puppy antics.  I looked into two sightless eyes, observed his stiff wobbling limbs as he slowly walked towards me. As tears welled in my eyes, I also saw his stubby, wagging tail!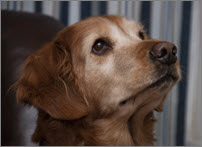 This was truly the same dog just in an aged body who still welcomed me and me him.  Recognizing each other like old lost friends, I sat down in a waiting chair to caress his face.  The touch of his fur on my hands lent a feeling of security to me and obviously made him happy and contented.
After a lovely dinner, good conversation, and enjoying time with my family, I left saying goodbye to all.  Once again, he stood in my path as I walked down the hallway. MacKenzie accompanied me as I gathered my things and took a quick look at myself in a small mirror.
I now saw my own reflection.  My hair now gray, my step a bit slower and my back not as straight, I realized that getting old is a process. One this old beloved dog and I share in our journey through life.