The loss of my husband opened many empty spaces in my life and one of them was the care of my car.  In this story, I will share the first time I took it to the Car Dealer for an oil change. You will read not only my report of that day but also the feelings that accompanied that trip… one of many firsts that year.
My marriage to John was blessed with many special events, special moments and even special responsibilities. We shared the important day to day things, one of them being maintenance of our cars. He always took care of the oil changes, changing of tires, even putting gas in my car because I often forgot to. Yes, I was spoiled but so was he, so I cherish this particular memory.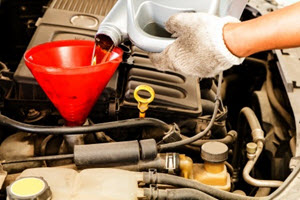 A month after he died, the oil change light kept coming on. In my grief, I pretended I did not see it! But then it began to beep almost calling "help" when the engine started, so…I made an appointment at the car dealer.
The morning of the appointment, I woke up teary, not hungry and almost dreading what would be a first in my life! Now, I had to take care of the car maintenance. Bummer — but it had to be done. So I drove slowly to the appointment, pulled into the lot and was greeted by the maintenance department man.
Almost like he too was sad, he took my keys and escorted me into the waiting room filled with the aroma of fresh coffee and even fresher donuts. Not hungry, fighting those tears, I sat down on a cold folding chair and waited. I do not think I even looked up at the television. I probably was content just to sit and wait.
After what seemed hours, the mechanic AND the owner of the car dealership came out and assured me that the car was done and in good shape.  But none of us were! They began to express their condolences about John and I just collapsed.
Their kind words like: a great guy, he was a real gentleman, he had a super sense of humor and he often bragged about his family, were all statements ringing in my ears. At that time, I wanted to clap my hands over them and scream! NO…NO, this is not my job and I do not want to do this!  Then of course, the tears, the exhaustion and finally the resignation that this was my new life hit me!
Then the calm took over and I settled down. Wow! Like a wave, this grief thing washed over me and this was just a simple oil change!
We all stood there, I thanked them for their help and left the shop. But, I knew now that I could do this — that it was my job and hopefully the next time it would be easier. If I was going to own a car, it had to be taken care of. I could hear John's voice in my ear saying, "Come on Mare, you know how important this always was to me, you can do it!"
Years later, I heard two widows discussing the first time they pumped their own gas and went through the car wash. This story came back to me about my life and made me feel like I was not the only one.
LESSON: The "guy" things that our husbands did are now "girl" things. But we CAN DO them.