Early this Christmas morning I approached my tiny backyard rose garden. To my delight, I found several small rosebuds seemingly ready to burst open. I thought maybe they would bloom tomorrow. All of the excitement of Christmas Day and also my son and his family coming to visit built my enthusiasm for this upcoming event. So I waited.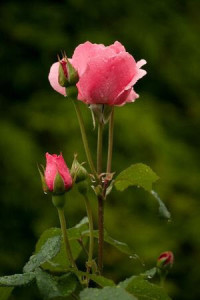 December 26 dawned with a blue sky, warm Florida temperatures and fluffy white clouds. I was excited for the family visit and walked to the garden. There, peeking through its surrounding, nurturing petals, was the beginning of a happy, fragrant rosebud. The sight filled me with joy and I was so thankful for its emergence. How wonderful to experience this birth of nature as a celebration of the love found only in Christmas.
I mention thankfulness because my love of gardening comes from my mother. I never really knew another person who had the gift of raising roses like she did. I recall a poignant memory of many years ago.
When I was sixteen my mother's rose garden held a significant place in our backyard. All summer my mother planted, fertilized, plucked and pruned her roses. Summer rains and radiant sun worked with her. The end result was unbelievable rose blossoms reproducing themselves over and over during the season. Her joy was seen as she presented bouquets to friends and neighbors, all marveling at her skill and expertise.
My father had a small, wooden enclosure built that winter. My mother's fear of frost and of rodents damaging the rose bushes was evident and he wanted to allay her fears. Thus, in October, as the fall weather approached winter, the roses sat housed in their new protection. The holidays passed, the icy winds blew and the enclosure stayed strong.
One morning my mother seemed distressed. Remembering my father sprinkling mouse poison inside the enclosure became a worry for her. What if the mice ate the poison and they suffered? This fear was shared during the day and we all became aware of her concern.
Every time I looked out at the garden I thought about what was going on under the rose protection. The winter continued and we all anxiously awaited spring. I think we dreaded what could possibly be uncovered when the enclosure was removed. April finally arrived and a week before Easter it was time to go out . . . and see.
In anticipation, the entire family was present when the top came off. Peering in, we did not see dead rodents. Quite the contrary; we saw a small nest filled with cotton, crumbs from an old, discarded biscuit and baby mice. The tiny creatures scurried quickly away. We were amazed and all looked at my mother.
Her fear of mice and her disdain for them was suddenly replaced by the joy of new life. Not only were there new little mice but each rose bush miraculously held uncounted buds, one larger than the next. We all asked how this could be. Days passed and mother seemed content, filled with joy to see her beloved bushes again.
Years later, my husband John and I celebrated our wedding reception in that backyard. Crowning other plantings, serving as a centerpiece for our happiness, was the rose garden. The roses were the most beautiful that year . . . almost fed by joy. Later that same month, my mother's first grandchild, Kelly (my niece),was born and the roses grew in beauty.
As I stood looking at my own rose garden, I remembered all of these stories. I thought about my mother and the many gifts she had given to me. Now, this day, with my family surrounding me and my granddaughter playing close by, I also had rose blooms to put in a bud vase. The vase had belonged to my mother . . . a combination of beauty that helped us celebrate again, years after my childhood and I felt . . . privileged.